Letting go isn't easy. In some cases, it's simply the right thing to do. We reach points in our lives in interpersonal relationships (platonic or otherwise) and work scenarios where moving on is necessary. Many reasons can lead us to that place. I very recently faced such a scenario. It was challenging, scary, and sad. It's still kind of sad, but trusting my gut was important. Until taking decisive action, anxiety plagued me for a few weeks. I've realized now that ambiguity and not clearly communicating my own needs were the likely culprit of my anxiety (hindsight's 20/20, right?). Add this experience to my short list of invaluable life lessons.
Onward and upward.
Dealing with the aforementioned circumstance, I was determined to avoid my old pattern of emotional and mindless eating. Moping around the house was not an option; there's too much temptation and it's counterproductive.  My evenings were spent playing bar trivia as a team of one, coaching derby practice, dancing it out to the Britney Spears Slacker station, making plans to dance in cages with my friends, and shopping for some badly needed cute clothes. Overall, I had fun!
My mission to continue avoiding added sugar was pretty easy, despite this week's Valentine's chocolates, Lindt truffles and coffee cake bestowed upon our office from adoring vendors. I didn't have a single bite of ANY of them, and that makes me incredibly proud. Who knew that I have will power?! 🙂
Roller skates rock my world.
Derby practice is back in session, which amped up my activity. MARD's skaters in training are preparing for their assessments  (coming up on Monday), and they look great! Coaching and skating with them is lots of fun, and really made my week.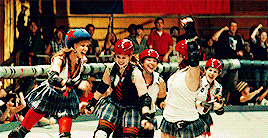 It was quite the week. Here's how it plays out on the scale:
Starting weight: 222 lbs
Last week's weight: 215.4 lbs
Today's weigh-in: 213 lbs
Amount lost to date: 9 lbs
The plan is working, and I can't wait to keep going. Tonight, there's skating with a few of my level two skaters. Tomorrow, my gym has a core class right before yoga. It should make for a fun weekend!
Stay tuned for a mid-week food post. Thanks again for reading, and feel free to send questions and topic ideas to bootifulbanshee@gmail.com.
Here's a little Mary to get you dancing. This song's the inspiration for this week's title. Enjoy! https://youtu.be/G6ZjBPXSmnE